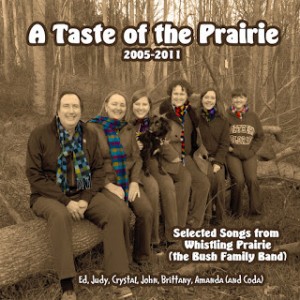 This is our greatest hits album, of some of the Christmas songs we've liked the most. There are two in Spanish, two in German, one each in Welsh and Danish. We have 3 instrumentals and the rest are vocals.
1.  We Three Kings–This version was inspiried by The Nitty Gritty Dirt band. Judy-banjo, Amanda-violin, Crystal-guitar, Brittany-accordion and mandolin, Ed-bass.
2. Good Christian Men, Rejoice!–This seventeenth century carol was a good opportunity for an a capella selection by Brittany, Amanda and Crystal.
3. Et  Barn er Født–(A Child is Born)  This traditional song is a tribute to our Danish Heritage. Crystal and Amanda–vocals, Brittany-guitar, Judy-cello, Crystal-viola, Ed-bass.
4. A la Nanita, Nana–This Spanish carol played on the harp could lull any baby to sleep. Amanda-harp and vocal, Crystal-viola and vocal, Judy-guitar and cello, Ed-bass.
5. Away in a Manger–Ed and Judy get to relax and enjoy while Amanda and Crystal play violin and viola, accompanied by Brittany on the piano.
6. A Tiny Little Baby–This Gospel-style carol by Jay Althouse is sung a cappella by Brittany, Amanda and Crystal.
7. The Huron Carol–Amanda's haunting vocals are the focal point of this Canadian carol, followed closely by Brittany's cello (and harmony), Judy's guitar, and Ed's great bass drone!
8. Blue Grass, White Snow–This Patty Loveless song gave Amanda a solo opportunity to explore her inner bluegrass self. Brittany and Crystal belt out the back-up vocals, as well as play mandolin and viola. Judy-banjo, Ed-bass.
9. I Wonder as I Wander–This song was inspired by strains of an Appalachian Folk Song. Amanda-harp, Judy-cello, Brittany and Crystal-vocals, Ed-bass.
10. Fröhliche Weinacht Überall–We had to include a German song in honor of our trip to the Fatherland in 2009. Throw in a little accordion by Judy, and you can really get into the spirit!  Amanda sings a solo as none of us could pronounce German words! Brittany-piano, Ed-bass.
11. Walking in the Air–This is the  theme song from the movie "The Snowman," one of Amanda's farovite movies. Amanda-violin, Crystal-mandolin, Judy-guitar, Ed-bass.
12. Colorado Christmas–A Whistling Prairie favorite, as the girls were raised in Colorado! Brittany-vocal and mandolin, Amanda backup vocal and violin, Crystal harmonica, Judy-banjo, Ed-bass.
13. Winter Wonderland–This carol evokes all the feelings and images of a snowy day spent in the cozy company of the one you love. Brittany, Amanda and Crystal-vocals, Judy-piano.
14. Baloo, Lammy–This 17th  Century Scottish Christmas Carol is timeless. Amanda's plaintive vocals are the heart of this song. Brittany plays the hammered dulcimer for the first time. Judy plays the cello and Ed the bass.
15. Los Peces en el Río–We first heard this traditional Spanish carol on a Manheim Steamroller CD. Amanda-harp, vocals; Brittany-mandolin, vocal; Crystal-viola, vocal; Judy-guitar, Ed-bass.
16. Holy, Holy, Holy–John Nuttall was not yet a member of the Bush Family (or Whistling Prairie), when he recorded this duet with Brittany. We've used adapted words that more closely express our understanding of the Godhead. Judy plays the banjo accompaniment.
17. Mary's Lullaby–Elisa Beckman joins us as guest artist on this number. Her flute playing sets a beautiful tone for one of our favorite Christmas songs. Britany, Amanda, Crystal-vocals, Judy-guitar, Elisa Beckman-flute.
18. African Noel–Ed plays a new instrument on this-the djembe (drum!). We chose this before we found out Brittany would be serving an LDS mission in South Africa. Brittany, Amanda and Crystal sing this in three part harmony. Judy-banjo, Ed-djembe
19. Star of Bethlehem–Amanda is featured on a vocal solo, accompanied by Crystal on the piano.
20. Welsh Set (All Through the Night/Ash Grove/Deck the Halls)  This set features Brittany singing in Welsh, as well as playing the mandolin. Amanda-violin, Crystal-viola, Judy-guitar, Ed-bass
21.   Cherry Tree Carol–This 15th century English ballad  tells of a miracle performed by the yet unborn baby Jesus for his mother. Crystal loved it so much that she happily sang the entire song by herself, while also playing the piano! Judy plays guitar and Ed bass.
22. Santa Set–Three songs about Santa–"Up On the Housetop," "Santa Claus is Coming to Town" and "When Santa Claus Gets Your Letter." This set has some hot mandolin playing by Brittany. Amanda's vocals really shine, with clever new updated words to the last song. Amanda-violin, Ed-bass, Judy-banjo.
23.  Es ist ein Ros Entsprungen–Amanda left for her mission to Germany a month after recording this song.  Amanda sings melody, Brittany the harmony. Judy plays guitar, and Ed the bass.
24. Betelehemu–When Christianity (and its music) arrived in Africa, Africans added their native rhythms and harmonies, enriching us in our turn. This Nigerian Christmas carol is a great example. Judy-drums, Ed-tambourine and Brittany, Amanda and Crystal-vocals.
25.  Santa's Workshop–Ed's infectious vocals on the story of McGurkin, Santa's helper, make you want to join right in. Amanda-bass, Judy-banjo, Brittany-mandolin. and John- shaker. Everyone joins in on the chorus.