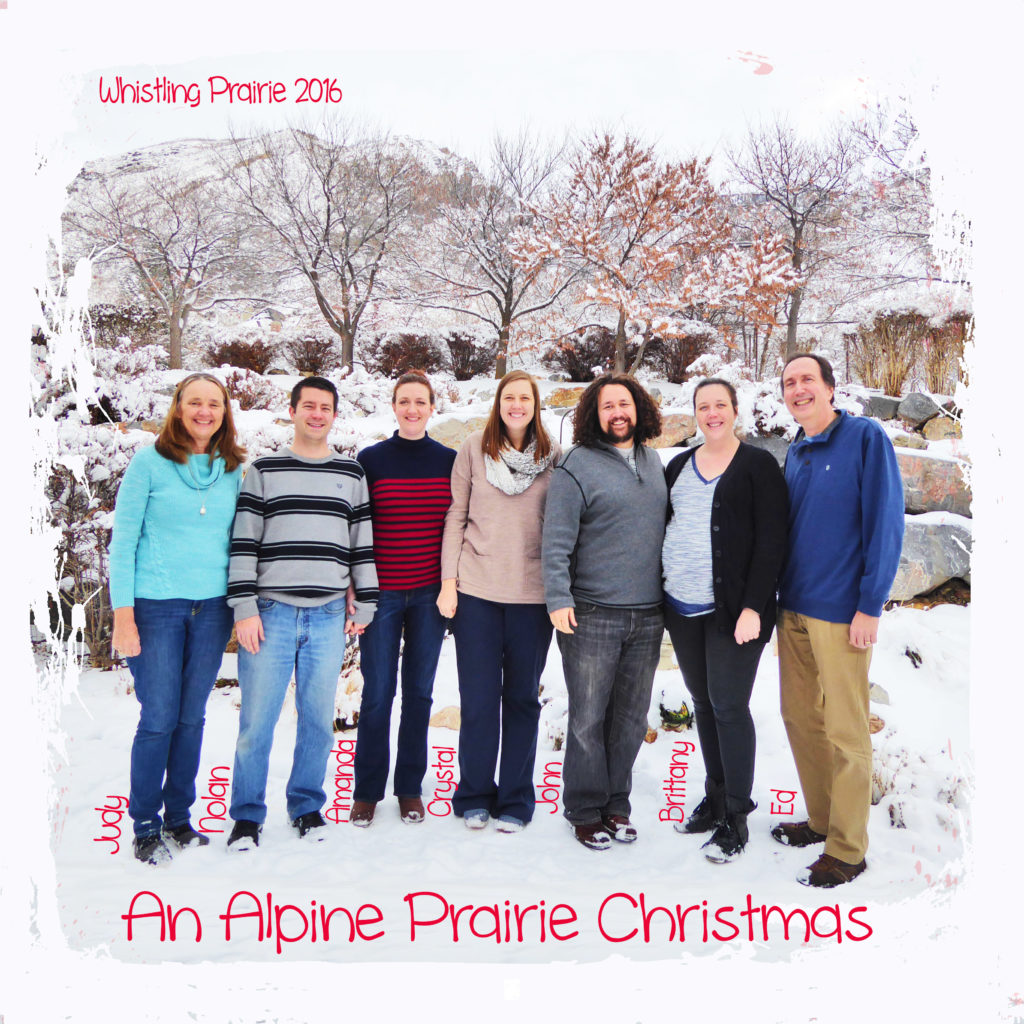 An Alpine Prairie Christmas was recorded in December of 2016 in the new Bush basement in Alpine, Utah! It was inspiring to be at the foot of the mountains as we created our newest Christmas album!
1. This Christmas Morning—This song, written by Bob Carpenter, of the Nitty Gritty Dirt band captures the spirit of Christmas in a classic Whistling Prairie way. We love it! Crystal-lead vocals, Amanda-vocals, Britany-mandolin, Judy-pennywhistle, Nolan-guitar, Amanda-accordion, John-djembe, Ed-bass.
2. Marshmallow World—We had a marshmallow world in Alpine this Christmas, and loved recording this puffy song to celebrate our beautiful snow! Amanda-vocals, Brittany-mandolin, Crystal-ukulele, John-banjo, Nolan-guitar, Judy-shaker, Ed-bass.
3. Away in a Manger—This is the fourth time we've covered this song, and it never gets old! The new melody and instrumentation breathe fresh life into the song! John-vocals, Nolan and Crystal-pennywhistle, Judy-alto recorder, Amanda-harp, Brittany-cello.
4. The Holly and the Ivy—Holly berries have long been associated with Christmas, and this song celebrates that connection! Crystal-lead vocals, Brittany-vocals, Judy-hammered dulcimer, Amanda-violin, John-banjo, Nolan-djembe, Ed-bass.
5. The First Noel—How have we let 16 years pass since we last recorded a version of this beloved carol? We've mixed it up with an alternate interlude melody and new instrumentation! Brittany-lead vocals, Crystal and Amanda—vocals, Judy-pennywhistle, Crystal-viola, Nolan-guitar, Amanda-accordion, John-autoharp, Ed-bass.
6. You've Got to Walk that Lonesome Valley—This beautiful and oft-recorded gospel song features Brittany and John on vocals, Brittany-mandolin, Judy-banjo, Crystal-guitar, John-saw, Ed-bass.
7. Babe of Bethlehem—This song by William Walker appeared in his Southern Harmony in 1835 and is still popular today. Nolan tells the nativity story with Amanda adding harmonies. Crystal-mountain dulcimer, John-banjo, Brittany-cello, Judy-tambourine and finger cymbals, Ed-bass.
8. Joseph Dearest, Joseph Mild—Brittany and John sing this tender lullaby to the Christ child, with Judy on guitar. Brittany-djembe, Ed-tambourine, Clementine-giggle.
9. Coventry Carol—This 500-year-old song is about Herod's slaughter of innocent children. You can sense the sorrow in Amanda's beautiful rendition! Brittany-piano.
10. Somewhere in My Memory—This song, featured in the 1990 movie Home Alone, was written by John Williams and sounds so classic that you think you always knew it! The entire band sings on this song! Nolan-guitar, John-banjo, Crystal-viola, Judy-glockenspiel, Amanda-accordion, Ed-bass.
11. Dominick the Donkey—Ed's rendition of this Italian favorite is sure to make you smile, and John's donkey imitation will make you laugh! Ed-lead vocals, John and Crystal-backup vocals, Amanda-accordion, Judy-jingle bells, Brittany-spoons, Nolan-bass.