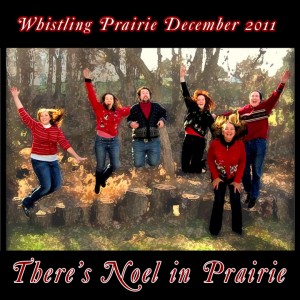 There's Noel in Prairie was recorded in December 2011, printed in 2012. It is the first CD recorded after John was officially a member of the family (and the band). Highlights include Riu, Riu, Chiu, Mary's Boy Child and What Shall We Give to the Babe in the Manger. Lowlights included The Friendly Beasts, in which we imitate the sounds of the animals. Enjoy!
There's Noel in Prairie
1. Come, Thou Long Expected Jesus     This advent carol, written by John Wesley in 1744 has held up well over the years. We love the simple presentation here, with Brittany and Crystal harmonizing and Amanda playing the harp.
2. Ríu Ríu Chíu     This well-known Rennaisance piece was published in 1556.  It has crossed over into popular music, being done by The Monkeys in 1967, David Archuleta in 2009 and Whistling Prairie in 2011! Brittany–vocals and djembe, Judy–vocals and guitar, Ed–tambourine, Amanda, Crystal and John–vocals.
3. What Are You Doing New Year's Eve?     Everyone always dreams of being with that someone special to welcome in the new year. Amanda's vocals make you wish it all the more. Brittany accompanies her on the piano.
4. Mary's Boy Child      We're searching for our inner Jamaican with this song. Crystal was born to play the steel drums, despite the fact that we don't own one. Brittany–vocals and mandolin, Judy–shaker, Ed–bass, Crystal–synthesized steel drums, John-djembe, Judy and John–backup vocals.
5. Once in Royal David's City     This song was Amanda's first solo in Sacrament meeting when she was only 9 years old.  She reprises it here, singing backup to John's solo. Judy–banjo, Ed–bass, Brittany–mandolin, Crystal–guitar, Amanda–concertina, John–pennywhistle.
6. What Shall We Give to the Babe in the Manger?    We love the message of this song as well as the rhythmic, yet lulling movement of it.  Amanda, Brittany and Crystal–vocals, Ed–bass, Judy–guitar, Crystal–viola, Brittany–mandolin, Amanda—finger cymbals, John—drums.
7. Miss Fogarty's Christmas Cake     This song tells the story of a Christmas dessert (think fruitcake) that kept Miss Fogarty's neighbors in dread of the holiday season! Crystal–pennywhistle, Brittany–mandolin and pennywhistle, John–banjo, Judy–bodhran, Ed–bass, everyone sings the chorus; Brittany and Crystal sing the verses.
8. I'm Gonna Be the First one Up on Christmas Morning       Amanda, who is always the first one up on Christmas at our house, sings a solo on this Harry Connick, Jr. song. John — drum, Ed–bass, Judy–guitar,  Crystal–keyboard, Brittany–mandolin and keyboard.
9. Stars Were Gleaming with a Twinkle     This instrumental arrangement of Stars Were Gleaming (also known as Infant Holy, Infant Lowly) adds a dash of Twinkle Twinkle, Little Star for flavor.  Ed–bass, Judy–glockenspiel keyboard, John–autoharp, Brittany–cello, Crystal—-viola.
10. O Holy Night     This beloved French carol (Cantique de Noel) was put to music in 1855. It was the second piece of music played on the very first radio broadcast, December 24, 1906.  Brittany and John, who were married in October 2011, sing a duet in this version. Brittany–mandolin, Crystal–keyboard, Judy–banjo, Ed–bass.
11. The Friendly Beasts     We did this song on a lark and debated long and hard about whether to include it on the CD. The kids won out, so here it is!  Please don't think less of us for it!  Brittany–mandolin, Ed–bass, John–banjo, Brittany–vocal, Crystal–coconuts. The animals are: Ed–donkey, Crystal–cow, Judy–sheep, John–dove.  Crystal sings very low;  and John sings very high!
12.  Ring Those Christmas Bells    This was the first year that John was an official member of our family (and Whistling Prairie), and to honor him, we added this song that was a tradition with his family every year at Christmas!  Judy–guitar, Ed–bass, Brittany–mandolin, John–banjo, Brittany and Crystal—bells. Everyone sings!