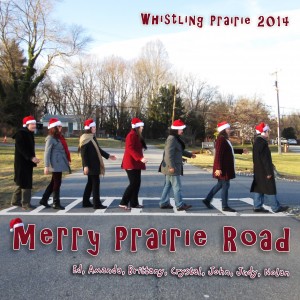 Recorded live in the Bush Basement, an amazing 13 new songs! The fun doesn't stop!
Heard from Heaven Today–This song tells the Christmas story in the big, full Whistling Prairie way! You'll be singing along by the final chorus! Amanda, Brittany and Crystal-vocals, Brittany-bodhran, Amanda-fiddle, Crystal-pennywhistle, John-banjo, Nolan-guitar, Judy-accordion, Dad-bass.
Pat-a-Pan–John is lead vocalist on this fun and driving French carol. Amanda adds the spice with her back-up vocals. Brittany is rock solid in her first foray into dulcimer playing! John-vocals, Amanda-vocal harmony, Brittany-dulcimer, Judy-guitar, Crystal-bells, Nolan-snare, Ed-bass
A Poor Wayfaring Stranger–This beautiful and somewhat melancholy gospel song will linger with you long after the last note stops ringing. Brittany-vocals, John and Crystal-vocal harmony, Judy-banjo, Nolan-harmonica, Amanda-violin, Ed-bass
Go Tell the Fox–A simple song that gets caught in your memory reminds us to share the Christmas message with every living thing! Crystal-vocal, Brittany-backup vocal, Amanda-fiddle, John banjo, Judy-guitar, Nolan-djembe, Ed-bass.
Hark the Herald Angels Sing–This lively Celtic-flavored adaptation of the song starts out as a reel and ends up as a jig. It was fun to play,  and, we hope, also fun to listen to! Amanda-fiddle, Crystal-pennywhistle, Brittany-mandolin, Ed-bass, John-banjo, Judy-guitar, Nolan-bodhran
God Moves in a Windstorm–A great gospel song that fits well on a Christmas album, this song gave us a great opportunity to sing SATB 4-part harmony. Vocals-Brittany, John, Amanda, Nolan, Crystal-guitar, Judy-banjo, Ed-bass,
I Wonder as I Wander–Our newest member of Whistling Prairie, Nolan, asks heartfelt questions about the first Christmas in this carol based on an American folk hymn. Nolan-vocal, Amanda-harp, Brittany-dulcimer, Crystal-viola
Little Drummer Boy–In the spirit of drumming, and inspired by an Orff arrangement, we included an array of rhythm instruments in this instrumental version of the song. Judy-bells, Nolan-glockenspiel, Crystal-pennywhistle and scratcher, John-castanets and tambourine, Brittany-mandolin, Amanda djembe, bass-Ed
Beautiful Star of Bethlehem–Amanda gets her country on with this traditional sounding song written in a Tennessee milk barn in the early part of the 20th century. Amanda-vocal, Crystal and Judy-backup vocals, Nolan-guitar, John-banjo, Brittany-mandolin, Crystal-violin, Ed-bass
Have Yourself a Merry Little Christmas–Settle down with some cool jazz and succumb to Crystal's invitation to have a wonderful holiday! Crystal-vocal, John-ukulele, Amanda-bass, Nolan-sax, Brittany-cello, Judy-guitar, Ed-bass
Sylvia's Christmas Song–Amanda married Nolan in May of 2015 and became a Hauta. In honor of the Hauta Finnish heritage they recorded this popular Finnish Carol. Amanda accordion, Nolan Trombone
King of the Sleigh–We love it when Ed sings a song with gusto! Judy penned some new words to King of the Road, and Ed took it from there! Ed-vocal, Amanda-backup vocal and tambourine, Nolan-bass, Judy-guitar, John-finger snaps, Brittany-snare, Crystal-piano.
Auld Lang Syne–We hope to someday have a compilation of this song with all our friends singing along. It reminds us of all our beloved friends spread around the world. We love you all! Amanda-lead vocal and piano. John-saw, Ed-tambourine, Brittany-cello, Nolan-sax, Judy-accordion, Crystal-kazoo, Amanda-violin