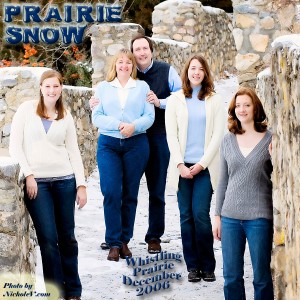 Whistling Prairie is the Bush Family Band. These songs were performed at Frasier Meadows, and recorded in the Bush Basement.We love this CD especially for our rousing rendition of Bluegrass, White Snow! It was recorded in 2006!
1.  Blue Grass, White Snow-This Patty Loveless song gave Amanda a solo opportunity to explore her inner bluegrass self. Brittany and Crystal belt out the back-up vocals, as well as play mandolin and viola. Judy-banjo/Ed-bass.
2.  Ding Dong, Merrily on High-One of our favorite Christmas instrumentals, this lively sixteenth century French Carol is just fun to play. Brittany-mandolin/Crystal-viola/Amanda-violin/Judy-banjo/ Ed-bass
3.  Welsh Set (All Through the Night/Ash Grove/Deck the Halls) Brittany loved her Welsh class so much, she thought it would be nice to do some Welsh Carols this year. This set features Brittany singing the vocals in Welsh, as well as playing the mandolin. Amanda-violin/Crystal-viola,/Judy-guitar/Ed-bass
4.  Ghost Partners in the Night-Judy wrote new words to an old favorite "Ghost Riders in the Sky." This is the story of Scrooge, with the same underlying message as the original song (Change your ways before it's too late!). Brittany-mandolin/Amanda-violin/Crystal-viola/Judy-banjo/Ed-bass
5.  African Noel-Ed plays a new instrument on this-the djembe (drum). We chose this before we found out Brittany would soon be serving an LDS mission in South Africa. Brittany, Amanda and Crystal sing this in three part harmony. Judy-banjo/Ed-djembe
6.  O Little Town of Bethlehem-This carol written in 1868 was inspired by Rector Phillip Brooks' visit to the Holy Land. Our instrumental version has Brittany on cello, Amanda on Harp and Crystal on viola.
7.  A Jingle Bell Christmas-This fun three part harmony medley of Jingle Bell songs makes us smile. Brittany, Amanda, Crystal-vocals/Judy-piano
8.  Gaudeamus Hodie-This song written by Natalie Sleeth to a Latin text, translates "Let us rejoice today." It has a catchy Caribbean rhythm. The girls do vocals as well as rhythm. Brittany-guiro/Crystal-maracas/Amanda-cow bell/Judy-guitar/Ed-bass
9.  Holly and the Ivy-This medieval English carol is a parable about the birth of the Christ child. Our instrumental version features Crystal on the mountain dulcimer, Brittany on the cello and Amanda on the harp
10. Still, Still, Still-In this soft and calm two part song combined with "Snow is Falling Still" Crystal and Amanda sing vocals. Brittany has the cello accompaniment. Judy-guitar/Ed-bass 
11. Let It Snow! Let It Snow! Let It Snow!– We'll remember the winter of 2006-2007 as the year it just kept snowing. The ice is still on the streets three months later. This song is for Grandma Melzer, who remembers it fondly from the winter she was dating Grandpa Brady. Brittany, Amanda, Crystal-vocals/Judy-piano
12. Colorado Christmas-A Whistling Prairie favorite, we couldn't resist doing this Nitty Gritty Dirt Band song again. Brittany-vocal and mandolin/Amanda backup vocal and violin/Crystal harmonica/Judy-banjo/Ed-bass
13. Have a Holly, Jolly Christmas-A happy Christmas wish from the movie "Rudolph the Red Nosed Reindeer," this song was a Brady family tradition for many years. Brittany-mandolin/Amanda-violin/Crystal-viola/Judy-banjo/Ed-bass Although everyone sang vocals, you can hear Brittany and Ed the best.
Sound recorded and mixed by Ed Bush